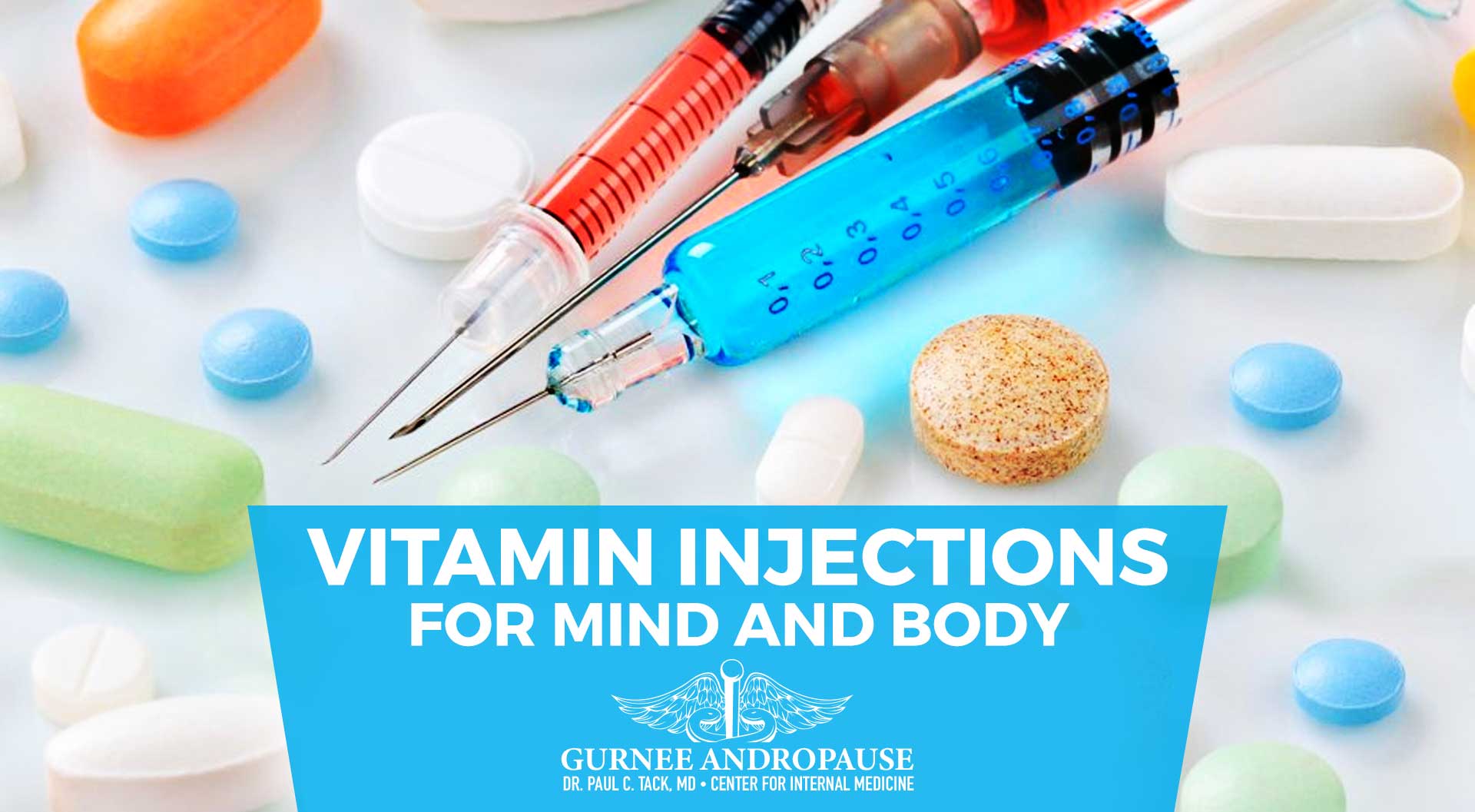 Vitamin Injections for Mind and Body…
Whether you are suffering from the flu, battling a migraine, exhausted with jet lag, or waking up from a long night of over-indulgence, Vitamin Injections are an efficient way to help improve the symptoms that are preventing you from enjoying your life.
Vitamins play a key role in the normal functioning of the brain and nervous system and in the formation of the building blocks of every cell in your body. Vitamins can help provide energy, clarity of mind, enhanced sleep, improved mood, a boosted immune system, increased physical stamina and potentially aid in weight management.  This is why taking a Vitamin shot can help produce more noticeable benefits. By taking a shot, you are bypassing the GI tract and allowing for up to 100% absorption into the body straight into the cells.
Energy Booster Shot – Vitamin B-12
Feeling fatigued and exausted despite the multiple cups of cofee and bottomless energy drinks?  Just one shot of B-12 and you'll enjoy a boost to your immune system and an increase in Energy and Focus!
Super Charged Booster Shot – Vitamin B Complex & B-12
Looking to top off your energy with an intense burst of Energy?  This super sized combination of B-Complex and B-12 Vitamins will supercharge your entire system and help convert food into fuel!
Anti-Aging Booster Shot – Glutathione
Glutathione is the mother of all antioxidants.  It contains an essential nutrient that prevents damage to important cellular components in your body.  This liquid gold is the secret to looking bright and fresh!  It's also a master detoxifier and helps support the immune system.
Biotin Booster Shot – Vitamin B7
Also known as Vitamin B7, This key nutrient is needed to maintain healthy metabolic, nerve, digestive, and cardiovascular functions.  Biotin also helps us keep a young and attractive appearance as it plays a role in maintaining the health of our skin, hair, and nails.
Beauty Booster Shot – Vitamin B7 & Glutathione
Beauty Blend Booster is a perfect blend of Glutathione and Biotin that helps refine your hair, skin, and nails.  Biotin, also known as B7, has actions such as strengthening nails and hair, reducing skin inflamation, supporting nerves, and reducing diabetes.  Glutathione is the bodys master detoxifier by supporting liver function and giving your hair and skin that healthy glow.
Weightloss Booster Shot – L-Carnitine & Vitamin B1 & B5
Boost and burn with this shot that directly aids in the breakdown of fatty tissue, with lipotropic agents.  B Vitamins and L-Carnitine helps speed up metabolism, increases fat burning and curbs appetite.  It's perfect pre or post workout to amplify weight loss benefits!
Muscle Booster Shot – Amino Acid: Taurine
Perform important functions in the muscle that promote greater muscle strength and endurance.  Research suggests that muscles with lower taurine levels contract with less force than those with high levels.
Skinny Shot – Metabolism Booster Shot – Lipo B
While there are a number of factors that can either slow down or speed up a persons metabolism, one simple, natural way to give your metabolism a boost (and start losing some serious pounds) is through regular Lipo B injections.
Antioxidant Booster Shot – Coenzyme Q10 – CoQ10
Coenzyme Q10 helps maintain good health and has been shown to be a beneficial antioxidant.  Boosts energy and speeds up recovery while improving cardiovascular conditions such as lower blood pressure, muscular pain, and periodontal disease.

One of the most common symptoms of Vitamin deficiency is increased fatigue or lack of energy levels.  Vitamins are required for proper energy production in your mitochondria. The number and proper function of mitochondria in your cells determine your subjective sense of "energy". A lack of Vitamins would make energy production less efficient and result in fatigue.

Vitamins play a role in white blood cell production, and white blood cells are essential for proper immune system functioning. This factor is important for helping fight off viruses and bacteria that come into contact with your body. It has been shown that low levels of Vitamins impact the body's ability to fight off various infections.
Vitamin shots are a safe, effective way to help reverse deficiencies, boost energy, and even encourage weight loss.

If you are having sleep issues including difficulty falling asleep, difficulty staying asleep, problems getting tired at night or low energy levels then you may be experiencing problems with your circadian rhythm.
Your circadian rhythm is the process that helps regulate the quality and depth of your sleep and studies have shown that Vitamin shots can help improve this rhythm.
Each cell in your body is surrounded by cell membranes.
Without vitamins stabilizing effect on those membranes, hormones are going to have a hard time entering your cells and may end up floating around in the bloodstream until excreted.

As noted above, Vitamin shots can help improve your sleep, increase your energy, normalize your metabolism and improve your mood. All of these factors indirectly influence your ability to lose weight which is why several patients report successful weight loss after starting Vitamin treatments.

Vitamin deficiency can result in a lack of energy. If you find that you're feeling sleepy for much of the day, even after you've had a good night of rest, there's a high chance that Vitamin deficiency is to blame. Many patients find that their energy levels soar after they begin Vitamin Shot Therapy.
Feel Alive Again and Reduce Your Risk of Vitamin Deficiency
When you receive a Vitamin shot, the nutrients are directly absorbed into the bloodstream. This is opposed to taking oral supplements or eating Vitamin rich foods, which increases the risk of diminishing the potency of the vitamin because it has to travel through your stomach first.  Take the next step by contacting our office today at 847.672.4284
Gurnee Andropause
Dr. Paul C. Tack 
Center for Internal Medicine
We are located across the street from Great America
501 N Riverside Dr #216 B, Gurnee, IL 60031
Contact Us Today and Get Started!

Company
Home
About Us
Testosterone Therapy
Sexual Health
Medical Weight Loss
Vitamin Injections
Contact Us
Hours
Monday:  1:00pm - 7:00pm
Tuesday:  7:00am - 2:00pm
Wednesday:  1:00pm - 7:00pm
Thursday:  7:00am - 2:00pm
Friday:  7:00am - 2:00pm
Saturday:  Closed
Sunday:  1:00pm - 4:00pm
Directions
Gurnee Andropause (Dr. Paul C. Tack - Center for Internal Medicine) is located in Gurnee, IL, just behind Six Flags Great America. From the 294, go East on Grand Ave. (Route 132) to the 3rd stoplight, turn right on Riverside Drive. Our office is located on the East side of the street in the Windsor Court Office Park.
Dr. Paul C. Tack has been passionately serving Lake County, Illinois for over 15 years. As a Testosterone Replacement Therapy and Medical Weight Loss Physician, Dr. Tack serves patients from the communities of Antioch, Arlington Heights, Bannockburn, Barrington, Barrington Hills, Beach Park, Buffalo Grove, Chicago, Deer Park, Deerfield, Evanston, Fox Lake, Fox River Grove, Grayslake, Green Oaks, Glencoe, Glenview, Gurnee, Hainesville, Hawthorn Woods, Highland Park, Highwood, Highland Park, Indian Creek, Island Lake, Kenilworth, Kildeer, Lake Barrington, Lake Bluff, Lake County, Lake Forest, Lake Villa, Lake Zurich, Lakemoor, Libertyville, Lincolnshire, Lindenhurst, Long Grove, Mettawa, Mundelein, North Barrington, North Chicago, Northbrook, Northfield, Old Mill Creek, Park City, Park Ridge, Port Barrington, Riverwoods, Round Lake, Round Lake Beach, Round Lake Heights, Round Lake Park, Schaumburg, Skokie, Third Lake, Tower Lakes, Vernon Hills, Volo, Wadsworth, Wauconda, Waukegan, Wheeling, Wilmette, Winnetka, Winthrop Harbor, Zion and surrounding areas.