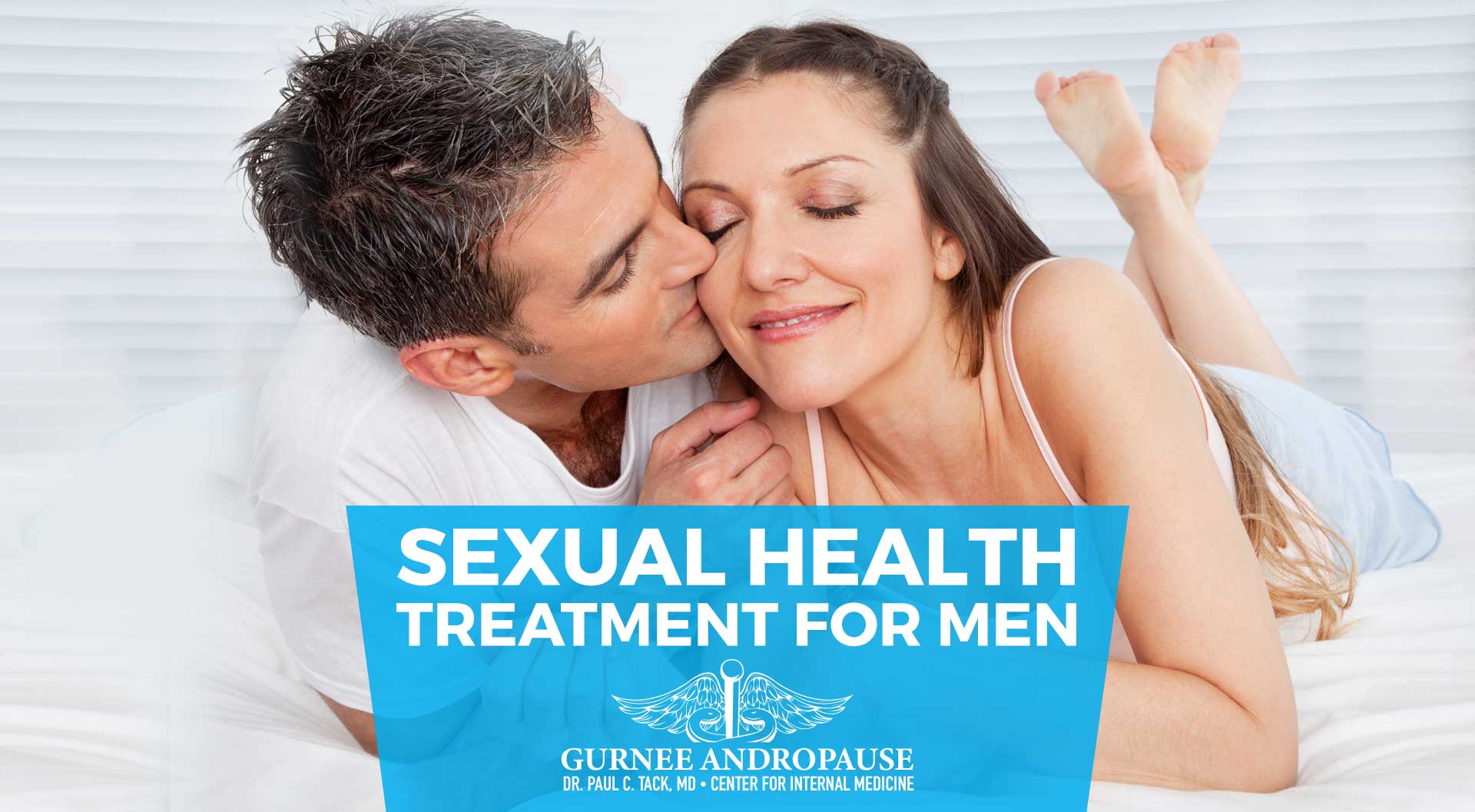 Increased Sex Drive
with Testosterone Replacement Therapy
Do you find yourself fatigued, unhappy, or unable to perform adequately in the bedroom? As men age, their testosterone levels tend to drop, sometimes dramatically. This drop in your hormonal levels can affect more than just your bedroom. Luckily there is a solution, in the form of testosterone replacement therapy.
Since testosterone is key for building muscle in the body, low testosterone can cause loss of muscle mass and an increase in fat gain… especially around the waist.  Testosterone encourages muscle growth while Muscle tissue burns calories at a higher rate than fat tissue. 
Prescribed oral medications. Prescription drugs, such as Viagra, Cialis and Levitra, increase blood flow to the penis so it can become erect. These erectile dysfunction medications don't increase your sex drive and only cause erections when you are sexually stimulated.
Call Us Today and Improve your Quality of Life with the help of Gurnee Andropause
Any male over the age of 30 is already experiencing a decline in hormone levels. By 40 years old most males are experiencing a substantial decrease in hormones and by the age of 60 many will probably have lost 75% of the hormones that their body produced and still needs.  Improve your quality of Life and...
Take the next step by contacting our office today at 847.672.4284 to schedule an appointment.
Gurnee Andropause
Dr. Paul C. Tack 
Center for Internal Medicine
We are located across the street from Great America
501 N Riverside Dr #216 B, Gurnee, IL 60031
Contact Us Today and Get Started!

Hours
Monday:  1:00pm - 7:00pm
Tuesday:  8:00am - 2:00pm
Wednesday:  1:00pm - 7:00pm
Thursday:  8:00am - 2:00pm
Friday:  8:00am - 2:00pm
Saturday:  Closed
Sunday:  1:00pm - 4:00pm
Directions
Gurnee Andropause (Dr. Paul C. Tack - Center for Internal Medicine) is located in Gurnee, IL, just behind Six Flags Great America. From the 294, go East on Grand Ave. (Route 132) to the 3rd stoplight, turn right on Riverside Drive. Our office is located on the East side of the street in the Windsor Court Office Park.
Dr. Paul C. Tack has been passionately serving Lake County, Illinois for over 15 years. As a Testosterone Replacement Therapy and Medical Weight Loss Physician, Dr. Tack serves patients from the communities of Antioch, Arlington Heights, Bannockburn, Barrington, Barrington Hills, Beach Park, Buffalo Grove, Chicago, Deer Park, Deerfield, Evanston, Fox Lake, Fox River Grove, Grayslake, Green Oaks, Glencoe, Glenview, Gurnee, Hainesville, Hawthorn Woods, Highland Park, Highwood, Highland Park, Indian Creek, Island Lake, Kenilworth, Kildeer, Lake Barrington, Lake Bluff, Lake County, Lake Forest, Lake Villa, Lake Zurich, Lakemoor, Libertyville, Lincolnshire, Lindenhurst, Long Grove, Mettawa, Mundelein, North Barrington, North Chicago, Northbrook, Northfield, Old Mill Creek, Park City, Park Ridge, Port Barrington, Riverwoods, Round Lake, Round Lake Beach, Round Lake Heights, Round Lake Park, Schaumburg, Skokie, Third Lake, Tower Lakes, Vernon Hills, Volo, Wadsworth, Wauconda, Waukegan, Wheeling, Wilmette, Winnetka, Winthrop Harbor, Zion and surrounding areas.